Responses to Woven in Govan
As part of our engagement with the Woven in Govan element of the collaborative international arts project, Woven Network (Fablevision, Intercult and Платформа ТЮ/Platform TU).  Fablevision commissioned StudioFV to produce various video shorts and a compilation of interviews which discuss the theme addressed by the project.
This particular video features the thoughts from Members of the The Scottish Parliament, Anas Sarwar, Kaukab Stewart and Pam Duncan-Glancy – as well as an update from Diana Berg of Платформа ТЮ (Platform TU), Mariupol, Ukraine.
'Woven', which is being exhibited at the Kinning Park Complex in Govan until September, 2022, features the work of artists t s Beall, Ursula Kam-Ling Cheng, Audrey O'Brien, Deirdre Nelson, Donna Rutherford, Alex Wilde and Ailie Rutherford. 
The project is jointly funded by Creative Scotland, National Lottery Heritage Fund Scotland and Nordisk Kulturfond.
Fablevision's Clarion Call to Community Culture
Fablevision has been working in the cultural and heritage sectors since 1985: supporting communities/communities of interest to tell their stories.
Much of our work has been in partnership with European collaborators through the River Cities Network with an academic underpinning in collaboration with colleagues from the University of the West of Scotland: the most recent projects being Woven Network. 
Our work is always 'glocal': in collaboration with international communities sharing and learning.  Most recently, we have piloted the Woven Network collaboration in Govan, Glasgow with a new project, Woven in Renfrewshire being developed and refined through the experiences in Govan.
Learning from these pilot models can be disseminated and developed with new partners in any other local authority area throughout Scotland.
If you are interested in a Woven project for your own area, please contact us at [email protected] for further information.
Woven in Govan Exhibition wins Plaudits from Scotland's First Minister
Nicola Sturgeon, Scotland's First Minister, quoted in Glasgow's The Sunday Post, was fulsome in her praise for the Woven In Govan exhibition at Kinning Park Complex.
The exhibition which displayed the works of artists,  t s Beall, Ursula Kam-Ling Cheng, Deirdre Nelson, Audrey O'Brien, Alex Wilde & Ailie Rutherford, and Donna Rutherford, focused (as part of the Woven Network project curated by Fablevision with design work and video from StudioFV) on the work of those women whose work is often overlooked, underappreciated or simply ignored.  The importance of such women, as the artists indicate in their works, came to the fore as soon as the Covid19 crisis struck; the under-appreciated revealed themselves to indispensable.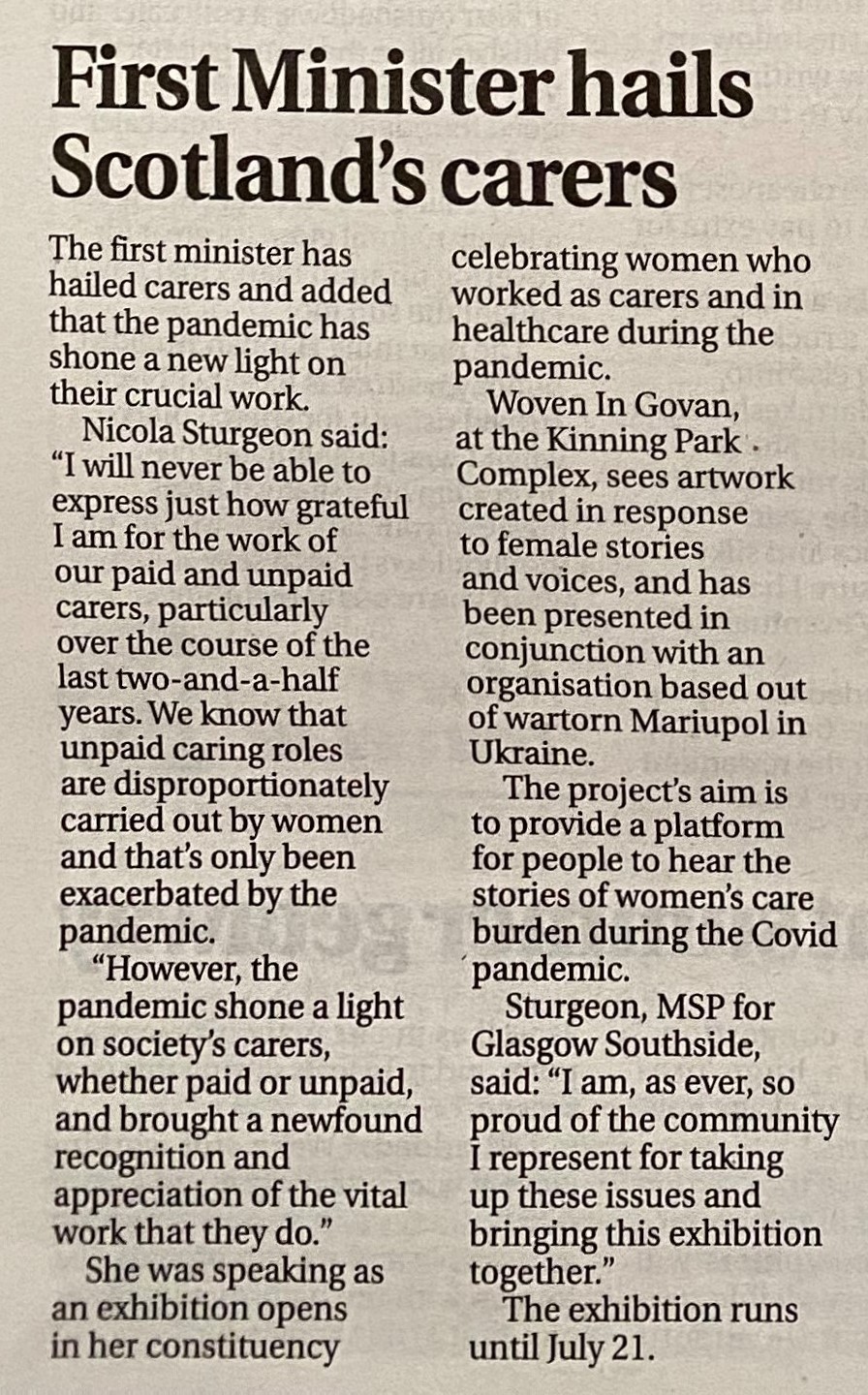 Woven in Govan at the Kinning Park Complex
Fablevision and the Kinning Park Complex are delighted to invite you to Woven in Govan: an exhibition launch event featuring the work of t s Beall, Ursula Kam-Ling Cheng, Deirdre Nelson, Audrey O'Brien, Alex Wilde & Ailie Rutherford, and Donna Rutherford, that has been produced as a part of the Woven in Govan project – part of a larger international online exhibition platform, Woven Network.
The event will take place on Thursday, 23rd of June at the Kinning Park Complex, 43 Cornwall Street, G41 1BA at 5:00pm to 8:00pm and will include the opportunity to interact with the works, view StudioFV's Woven in Govan film, enjoy some food from 6pm (pay what you can towards costs) and to meet and chat with some of the artists themselves.
We hope to see you there!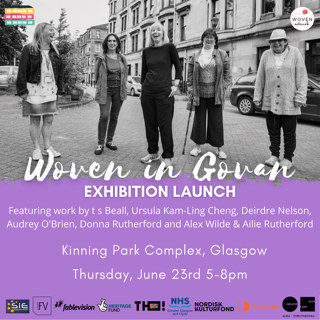 Care's Collective Quality
In April 2021 artist Alex Wilde and Ailie Rutherford met with six inspirational
women working in care roles and for social change in Govan as part of the Fablevision project, Wovan in Govan, which in turns was part of a wider collaboration involving cultural organisations in Sweden (Intercult) and Ukraine (TU Mariupol).
We talked with women about formal and informal care, paid and unpaid labour and personal reflections on how we care for each other, our communities and our society.  These women are passionate about the communities of people they support and are involved with; in hospitals, community gardens, social justice projects and housing campaigns.
Reflecting after a year of Covid "lockdown" where our usual methods of
collective caring have been taken away,  we wanted to know how
these women; activists and carers had adapted in the face of deepening
inequalities, social separation and collective anxiety.  At a time when "care" has never been more widely discussed, what existing networks of community care have endured and what new models of care are emerging?
We were interested in exploring the intersection of care and activism and understand how women were working towards social change.  We talked about how would we would like care to be valued and organised
differently, and what new ways of organising we need now for a better reciprocal system of care.  How do we care better for each other, ourselves and beyond our familial or romantic bubbles?  And thought about the new systems, networks and ideologies we need now to do this work.
The conversations we had with the women and each other, made us feel like we need to explode the idea of the family unit and abandon the idea of monogamous care in order to implement care for our wider world and communities.  We felt a great sense of urgency to change an uncaring system, which continuously expects women to fill in the gaps.  Drawing on our own experiences and listening to the experiences of women who live and work in Govan involved in collective care, caring far beyond their immediate bubbles, a set of ideologies and demands evolved for centering a post pandemic recovery on care. The resulting diagram (a visual manifesto) pull together some of the key themes and ideas we discussed with the women we interviewed, turning them into demands for change.  Our simple diagram could never convey the depth and richness of each conversation but we hope it goes some way to highlighting the incredible work and vibrant intellect of the women who so generously gave their time to these conversations.
This manifesto has been created in a short space of time, with physical distancing challenging our usual methods of a socially engaged practice. It is raw and imperfect but reflects the urgency of the need for change.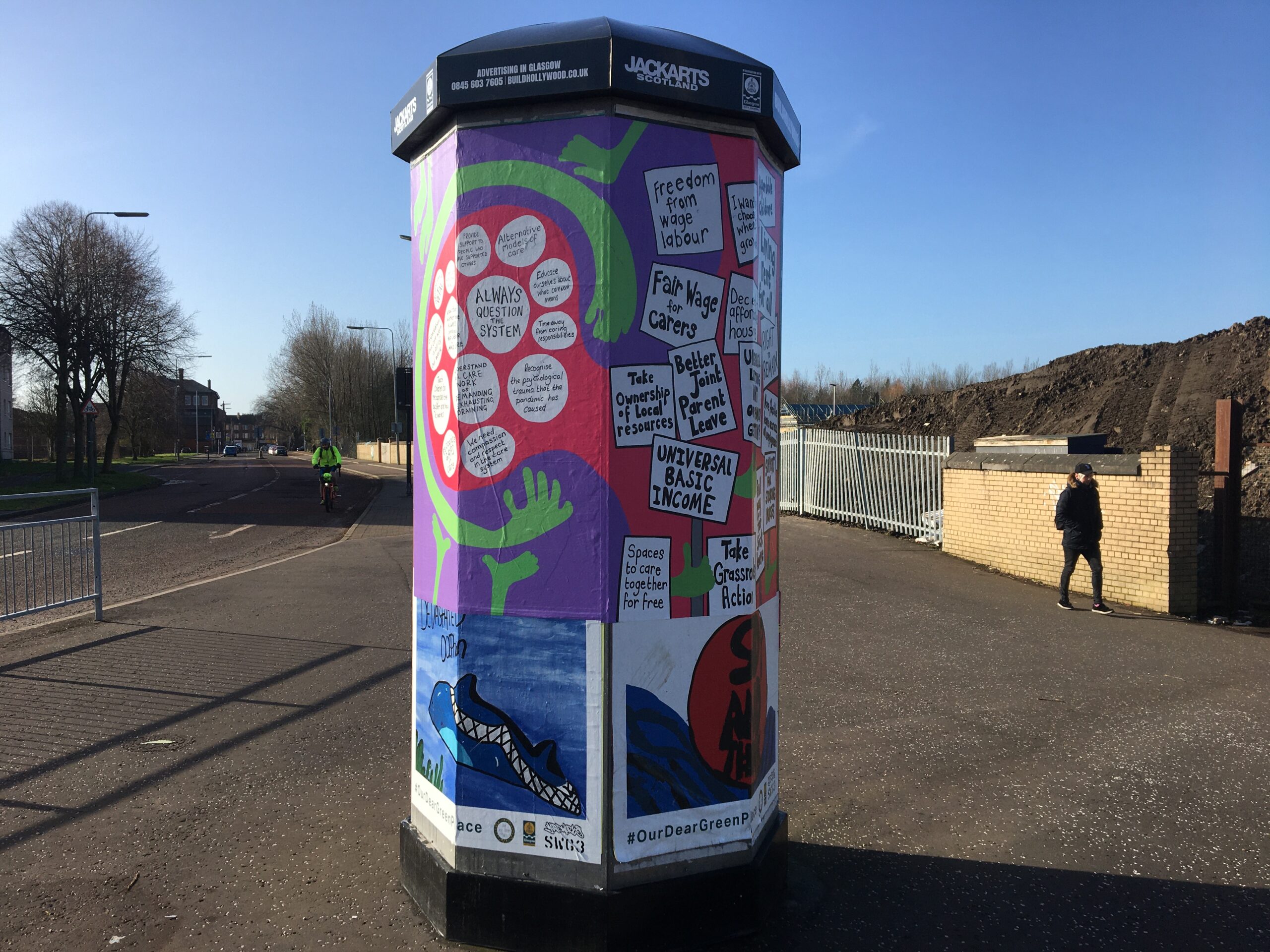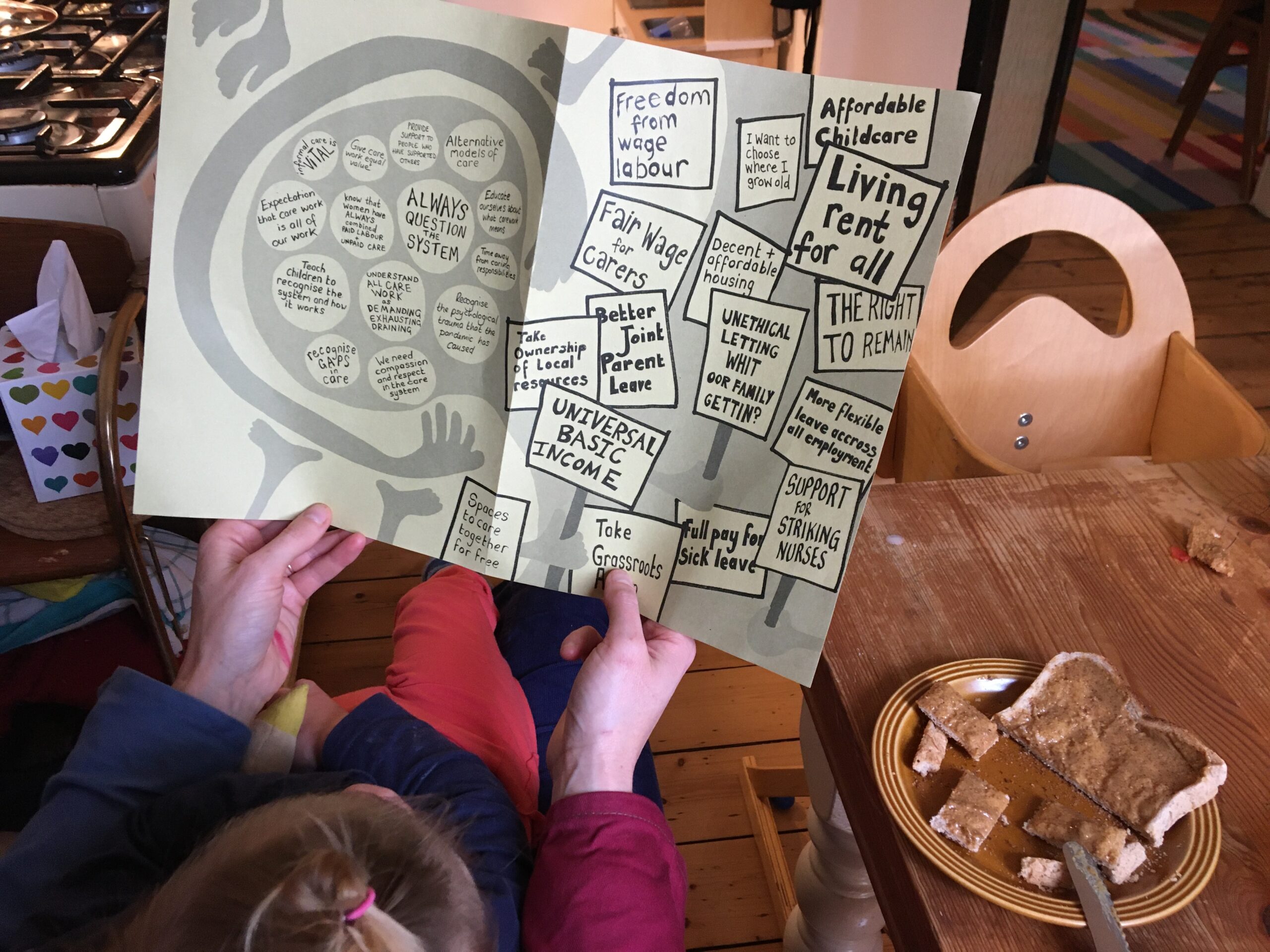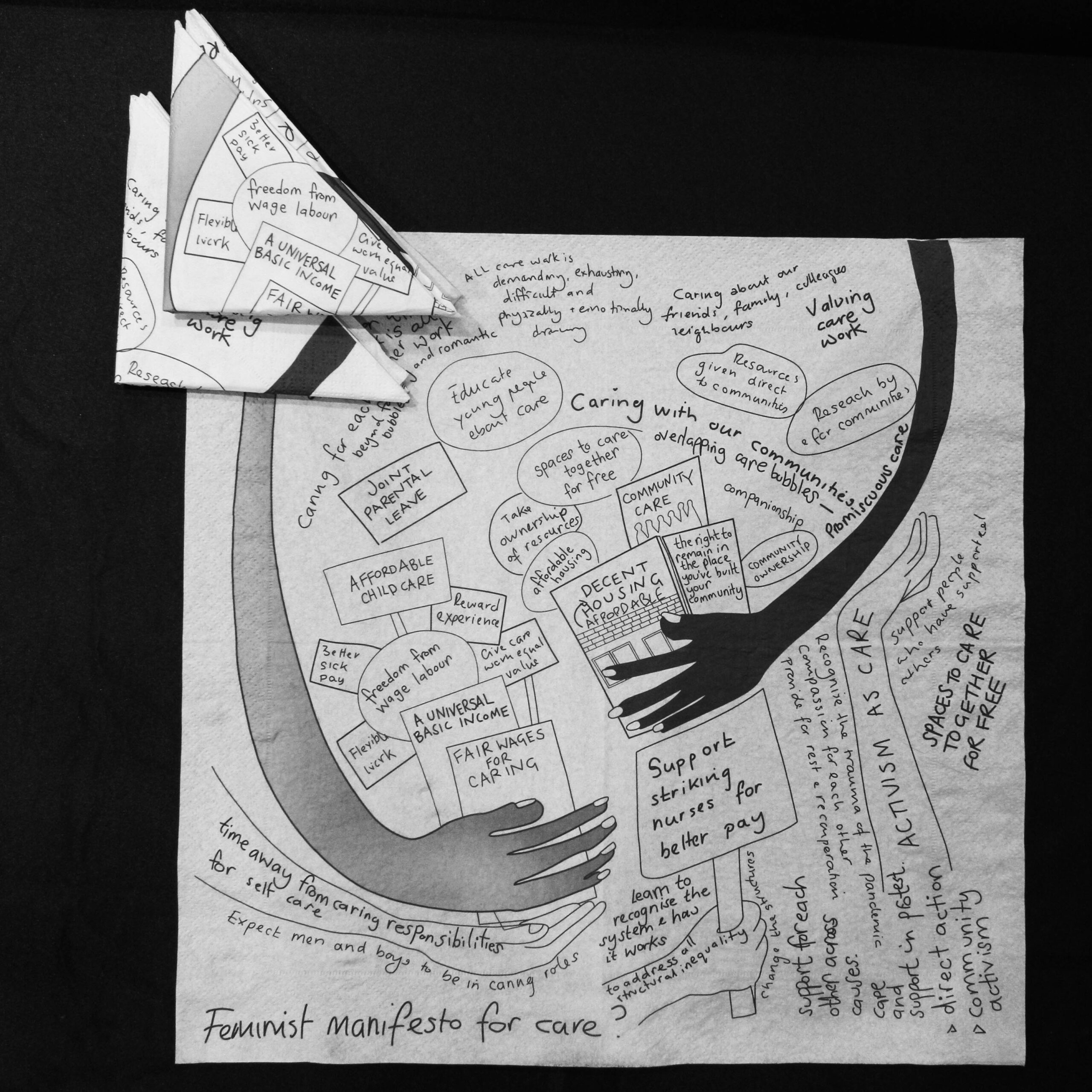 Art for Health's Sake
A recent article in Glasgow's Evening Times featured the work of Jackie Sands, Health Improvement Senior: Arts and Health for NHS Greater Glasgow and Clyde.  
The rationale for the use of art in such a context, as the article points out, has quite a long history.  However, there is one thing paying lip service to such ideas, there is quite another bringing the means, the artists, the patients and the public together in order for it to happen.  Well, that's exactly what Sands has done. 
Working at the Queen Elizabeth University Hospital [QEUH], Sands' therapeutic and arts-based interface has seen the installation of a piano, thanks to Piano City,  sculpture placement which involved, the Sculpture Placement Group, performance from the Royal Conservatoire of Scotland, Govan Songsters and DJ George Bowie, and art installations, such as those in which Fablevision was/is directly involved, namely, the Memory of Water and Woven Network.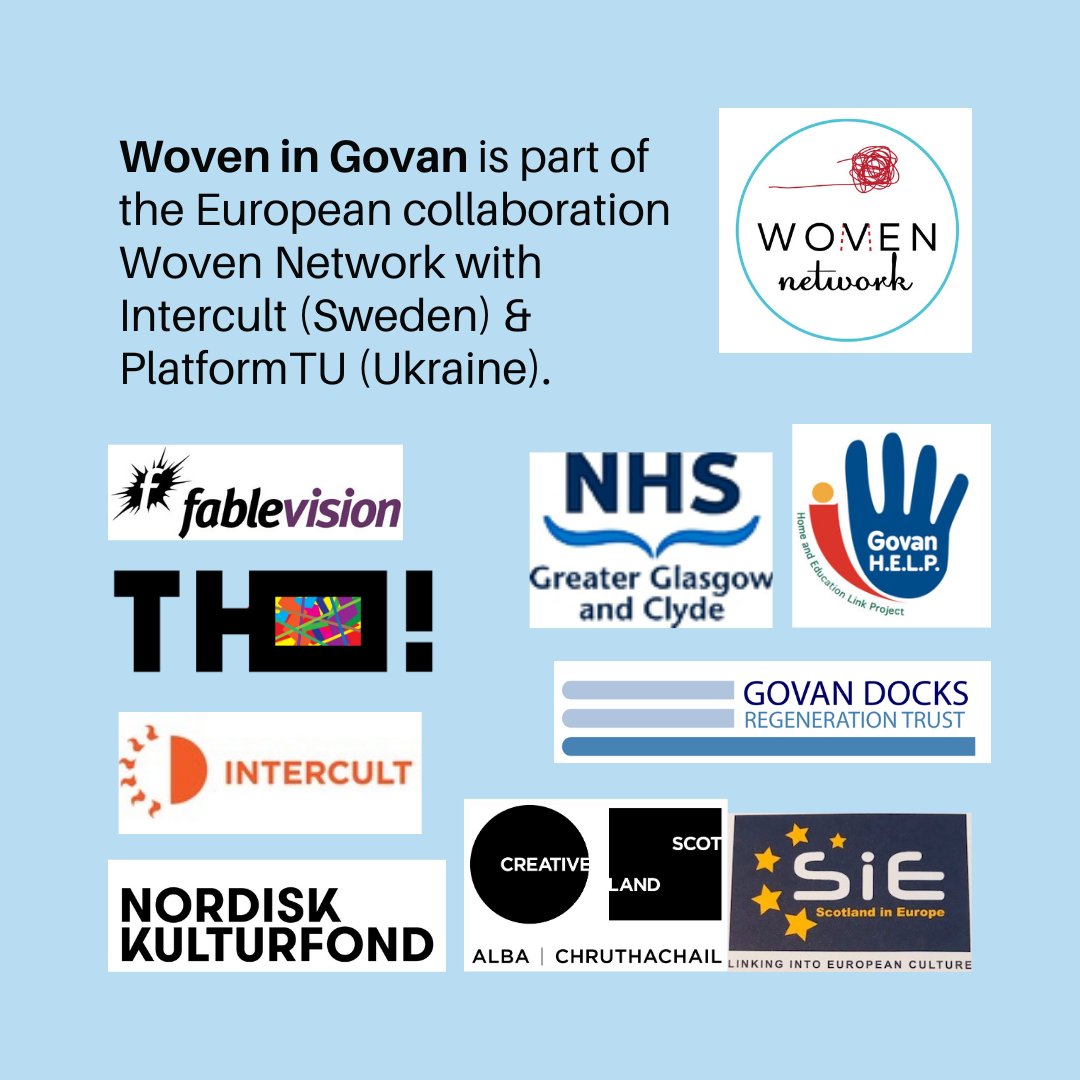 Woven Network Govan Recruits an Icon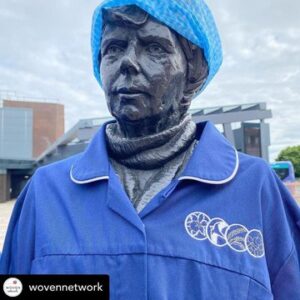 Govan-based artist tsBeall uses the Mary Barbour statue outside Govan underground station to project the importance of women as the principal carers during the present Covid19 crisis. In the history of Govan and Glasgow, Barbour rose from obscurity to prominence by a combination of an indomitable spirit, humanity and acumen, yet until relatively recently, she was a figure almost lost to history.
The Woven Network Govan, part of the Woven (Womens) Network, is an arts-based project which is determined to give voice, notice and credit to the role of women as the principal carers, professionally and domestically, during the present crisis.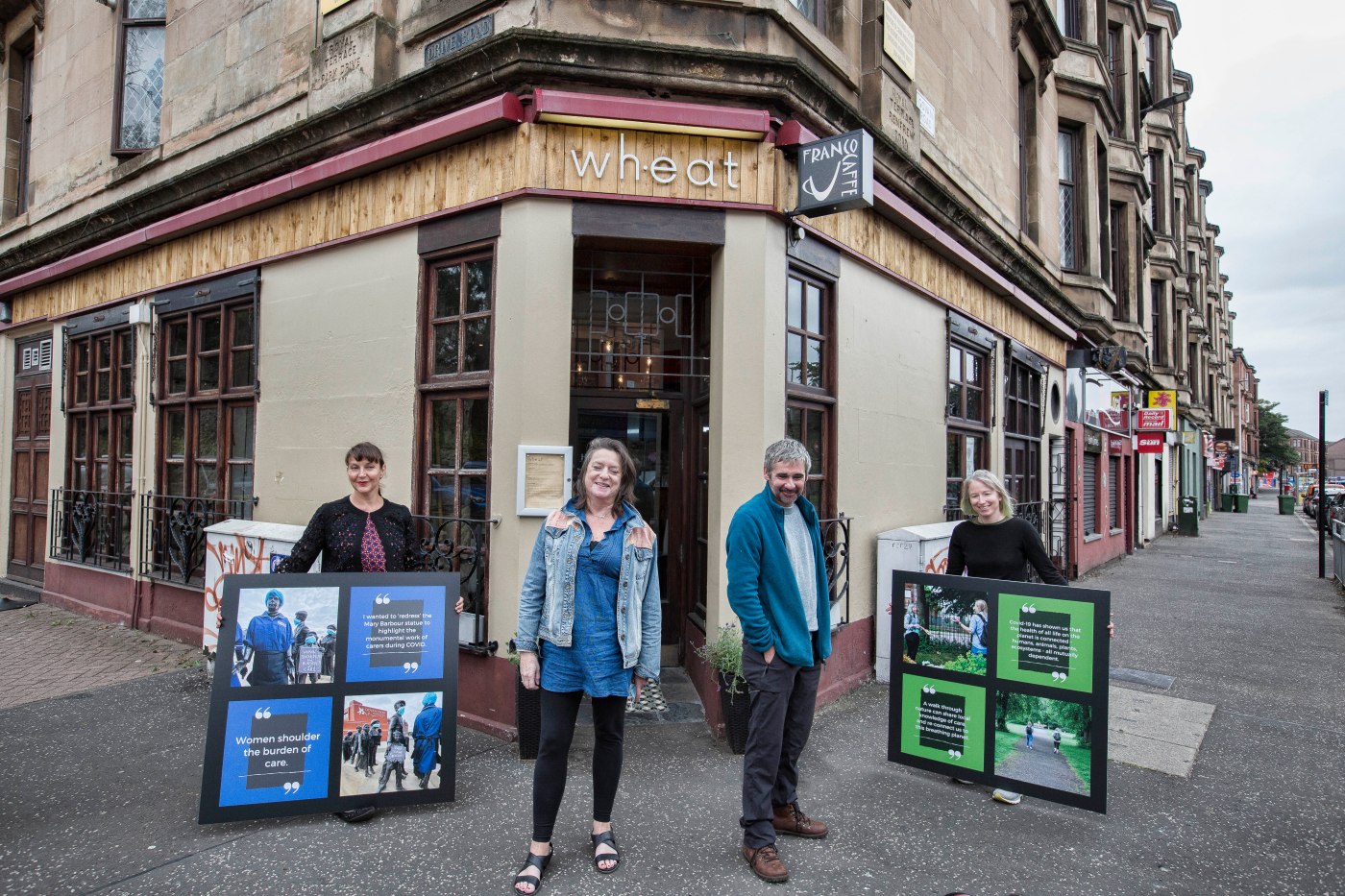 Woven Network at the Wh•eat cafe and Govan Cross
The Fablevision-Wh•eat cafe event – featuring the works Ursula Kam-Ling Cheng, Deirdre Nelson, Audrey O'Brien, Ailie Rutherford, Donna Rutherford, Alex Wilde – attracted a lot of local attention.
Our sister organisation, Fablevision Studios, was also on hand to film and interview t s Beall (the lead artist on the Woven Network Govan) at her installation on the Mary Barbour statue at Govan Cross.
The aim of the artworks and events is to highlight the role played by female carers – paid and unpaid – during the Covid19 pandemic.
BBC Scotland River City star, Iain Robertson, was on hand to launch the new exhibition, which was covered by both the Evening Times and the Herald.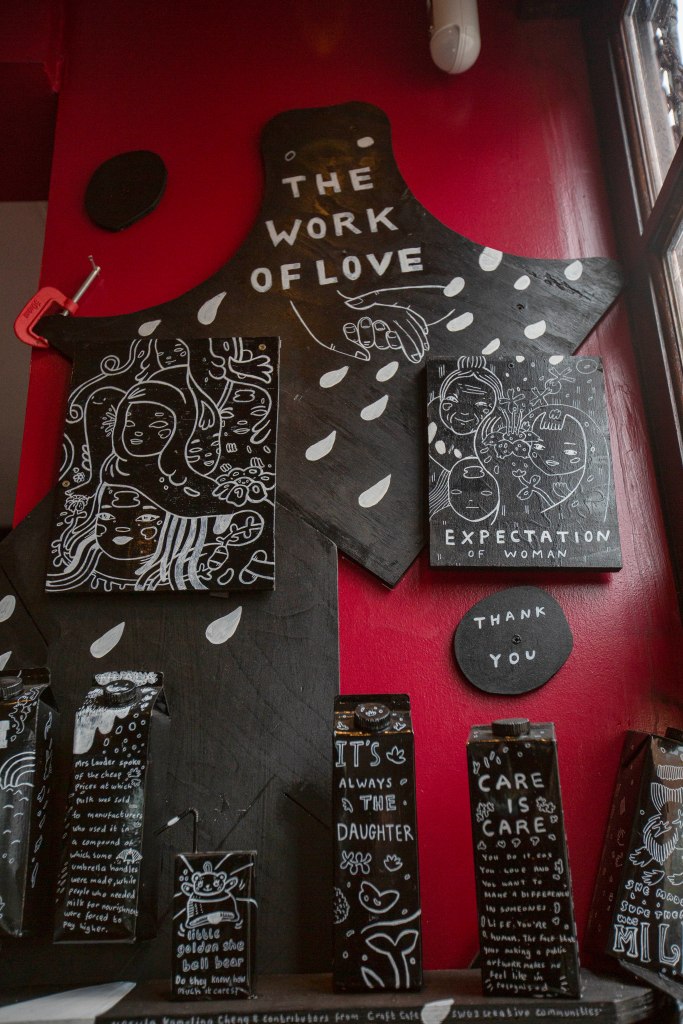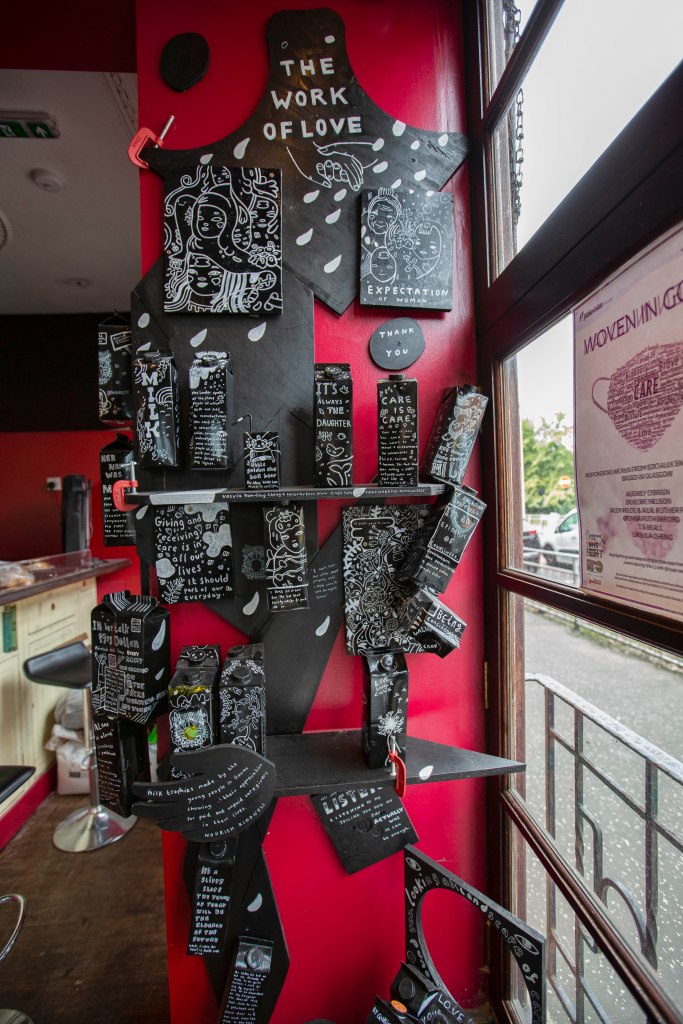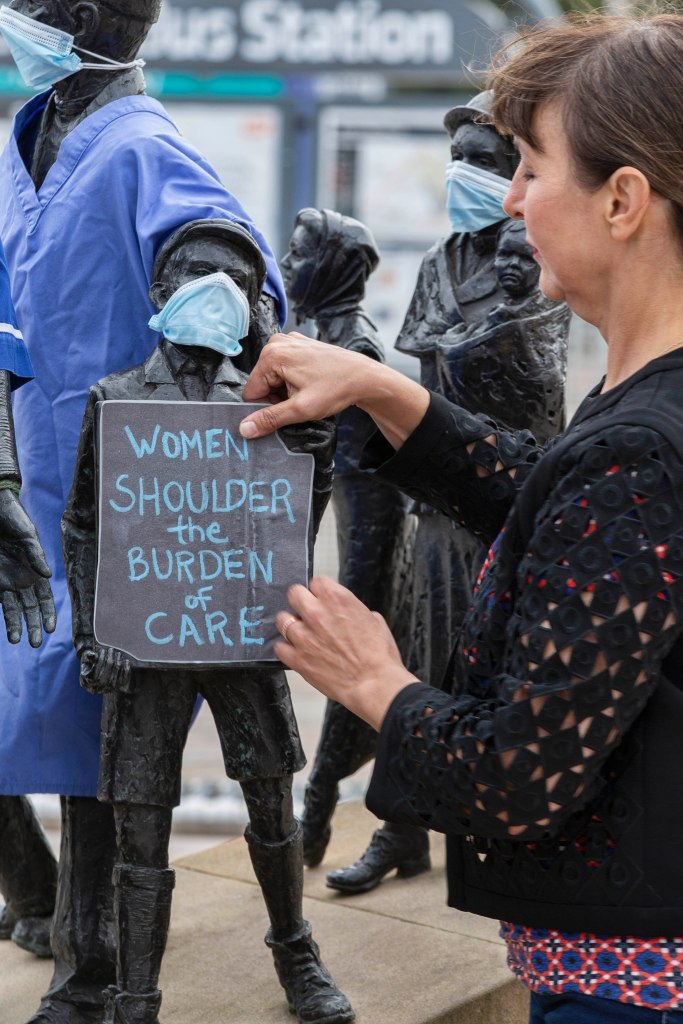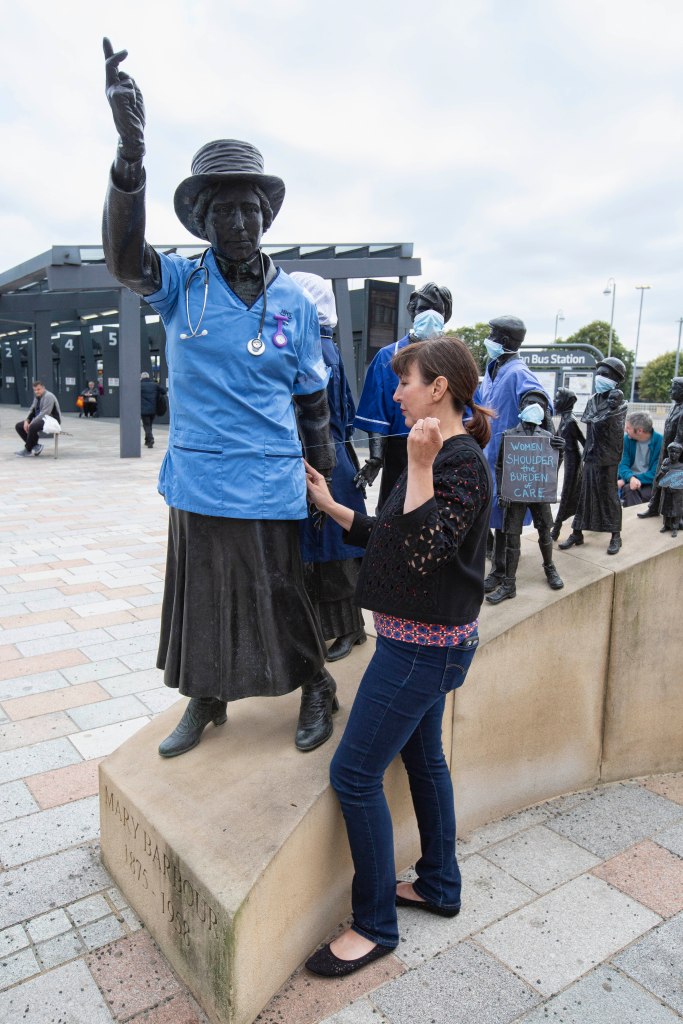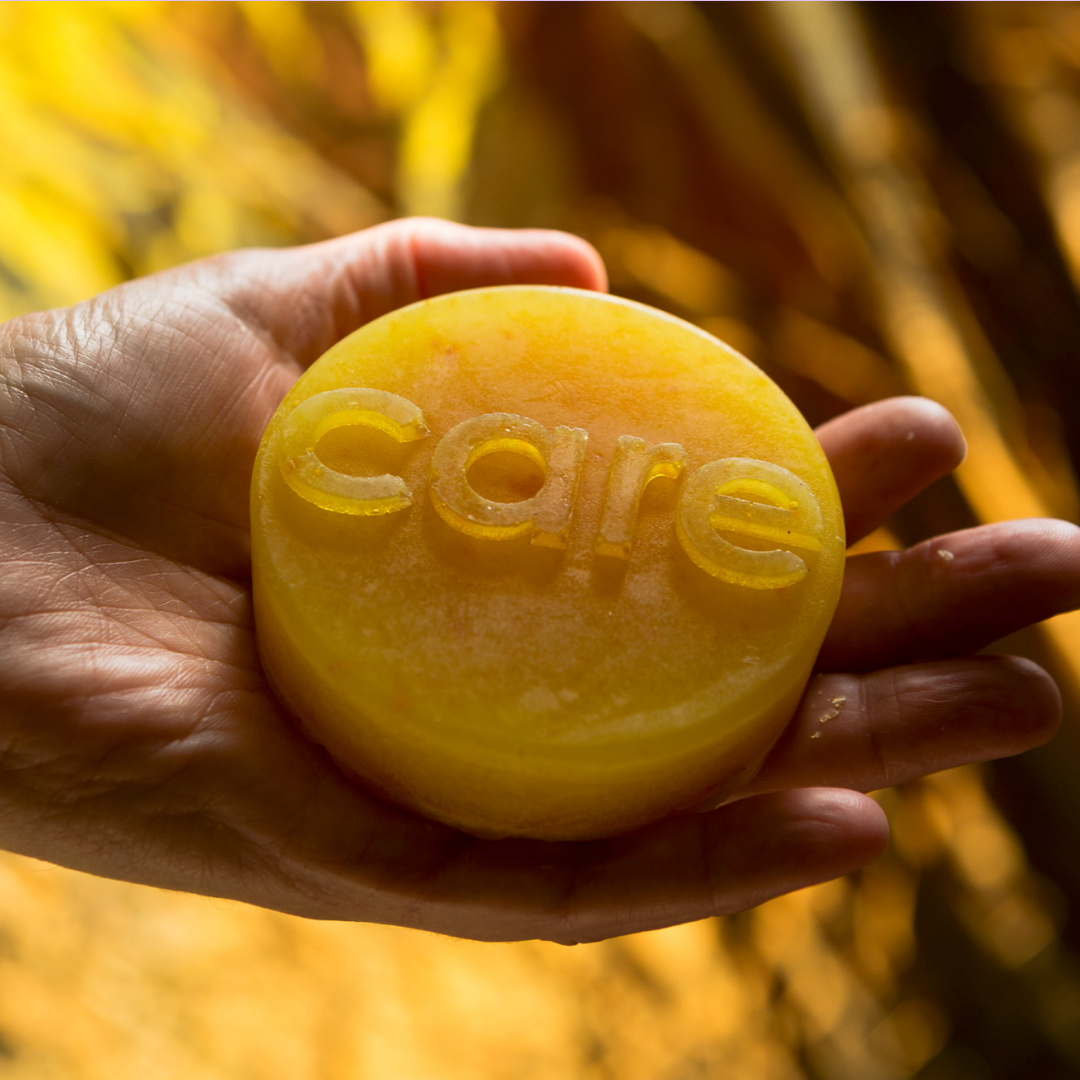 Currency of Care
Spoken Words written by Ruth Little has been used by Deirdre Nelson in Currency of Care, one of her artistic submissions for the Woven Network Govan project.  Deirdre Nelson is one of the 7 artists coming together for Fablevision's Woven in Govan – part of the Woven Network European collaborative project, highlighting the experiences of women during the Covid-19 pandemic and the historical burden of care placed upon women in society as a whole. (Music Credit: "Almost Bliss" Kevin MacLeod (incompetech.com) Licensed under Creative Commons: By Attribution 4.0 License http://creativecommons.org/licenses/by/4.0/)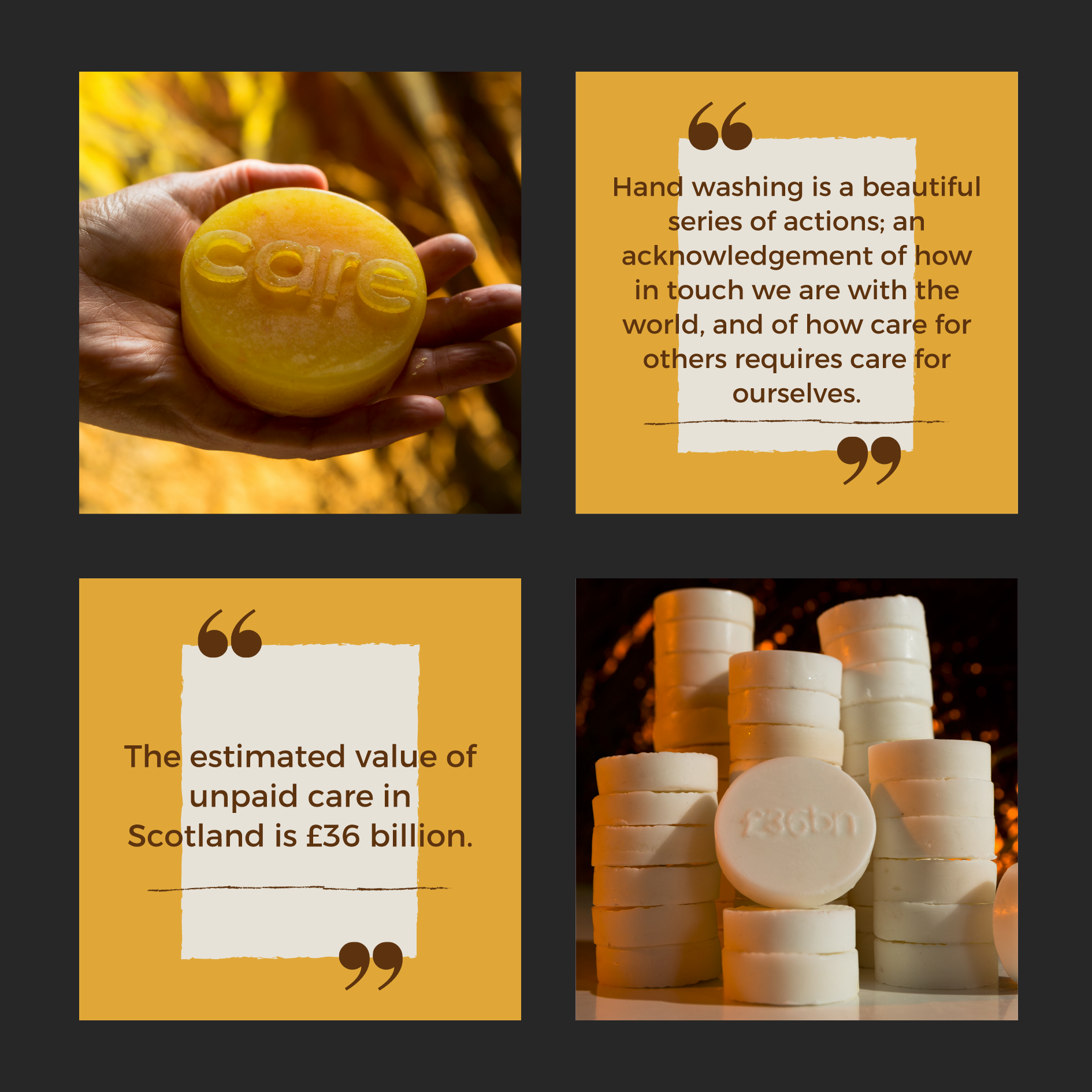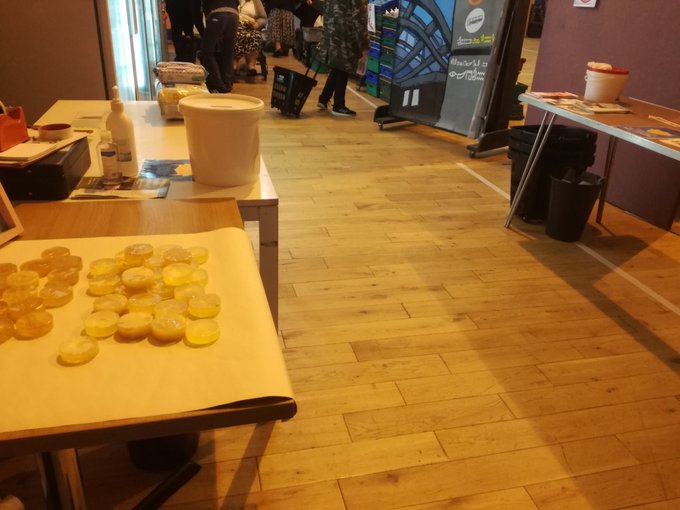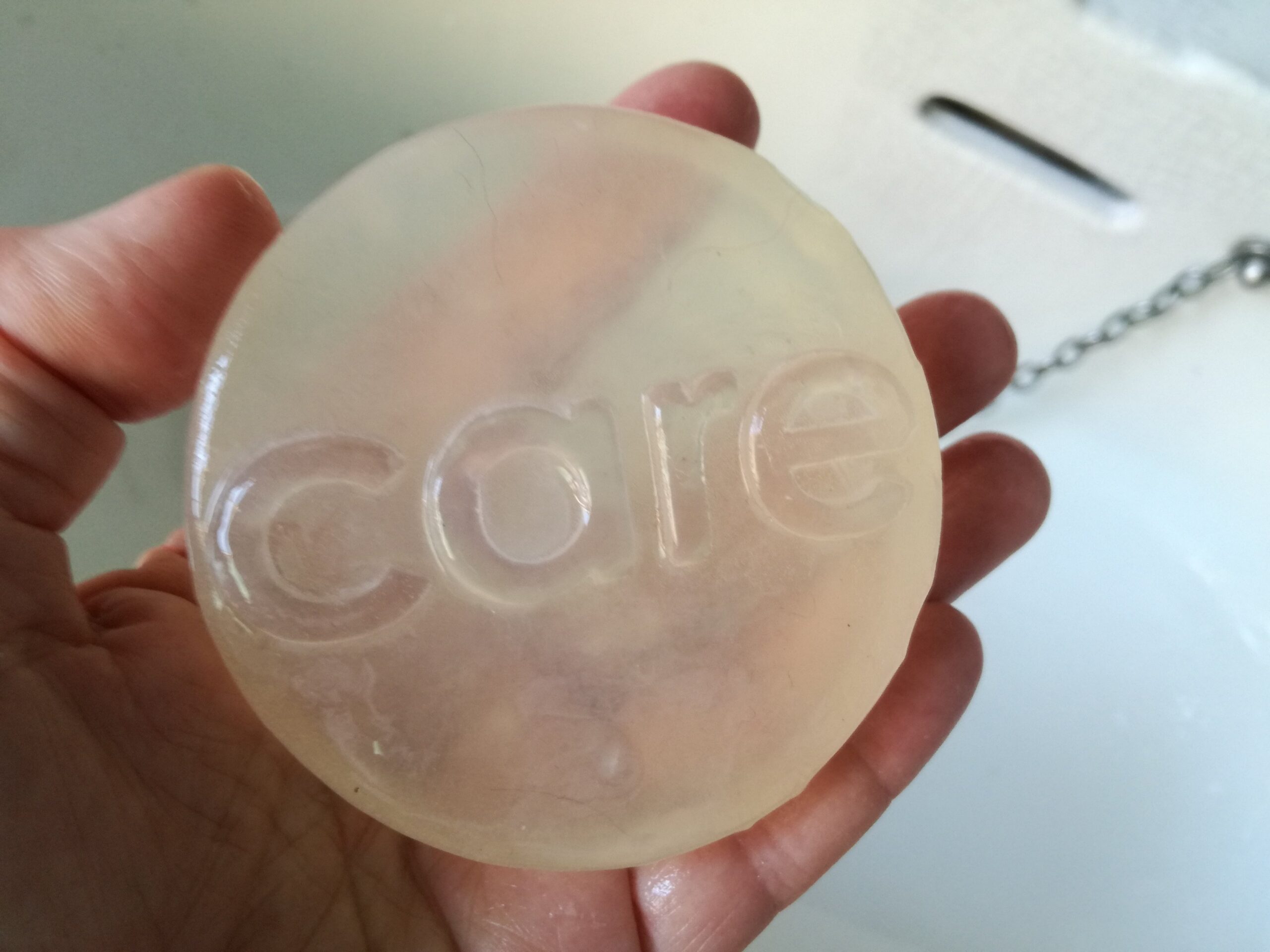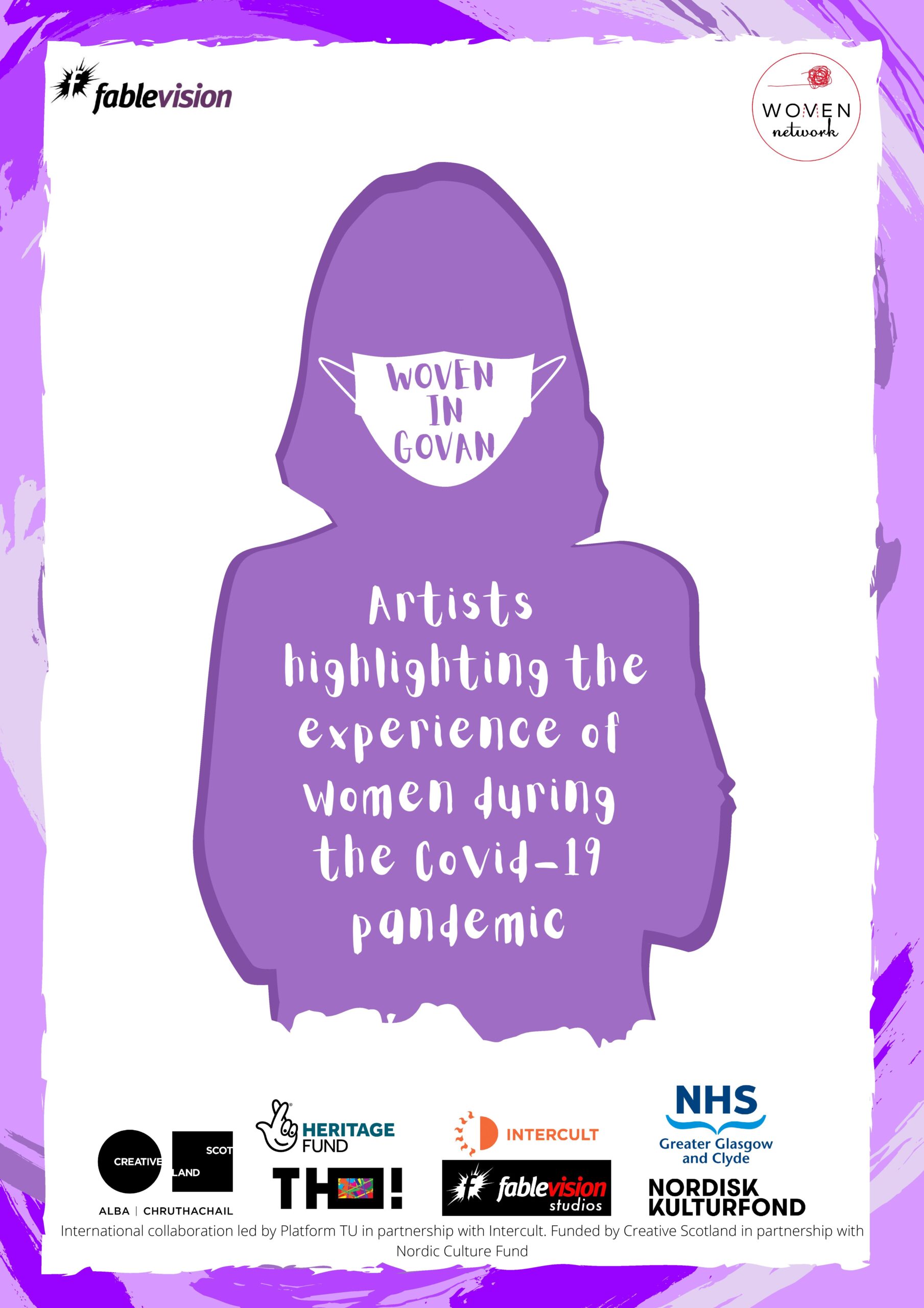 Giving Voice to Carers
Donna Rutherford is one of seven artists coming together to take part in Fablevision's Woven in Govan project – highlighting the experiences of women during the Covid-19 pandemic and the historical burden of care placed upon women in society as a whole.  Donna's work is an audio piece, featuring interviews with women on their experiences over the last year in the Covid climate and the effect the pandemic has had on them and their lives. Here is a small taste of her full 15-minute long piece, currently being exhibited at the wh·eat cafe in Govan.